Archivio Film / Film Archives
Titolo Originale:

Hoi Maya

Titolo in Italiano:

Ciao Maya
Regia:
Claudia Lorenz
Durata:
12'30"
Genere:
Narrativo - Fiction
Anno:
2004
Nazione:
Svizzera
Colore/B&N:
Edizione: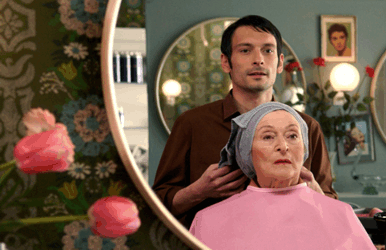 Un giorno due anziane signore si incontrano casualmente dal parrucchiere. Maya riconosce Charlotte e Charlotte riconosce Maya. L'incontro inatteso riporta le due donne indietro nel tempo: si risvegliano i ricordi della loro giovinezza e tornano a manifestarsi i sentimenti un tempo repressi. "Hoy Maya", film ironico su un soggetto serio, mostra che non è mai troppo tardi per ritrovare l'amore e cominciare una nuova vita.
One day two old ladies meet unexpectedly at a hairdresser's. Maya recognizes Charlotte , and Charlotte recognizes Maya. The unexpected encounter takes the two aback at first. Memories of their joint youth are awakened, and suppressed feelings begin to rise. "Hoy Maya" is a playful film about a serious subject: about lesbian love at old age, and about the courage it takes to start one's life anew.