Archivio Film / Film Archives
Titolo Originale:

Dirt

Titolo in Italiano:

Sporcizia
Regia:
Nancy Savoca
Durata:
95'
Genere:
Narrativo - Fiction
Anno:
2003
Nazione:
USA
Colore/B&N:
Edizione:
Dolores, un' immigrata salvadoregna che vive negli Stati Uniti da dieci anni con un marito disoccupato e un figlio adolescente, insegue il sogno di fare abbastanza soldi per ottenere una vita dignitosa. Dolores fa la cameriera per le famiglie ricche dell'Upper East Side a Manhattan, lavora sodo e non ha niente in mano. Il figlio adolescente č "americanizzato", anche se ancora privo di documenti, e a lui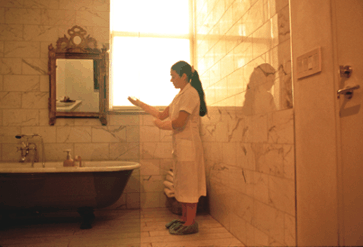 non interessa tornare nel suo paese, che non ha mai conosciuto. Il film segue la vita sfortunata di Dolores, in una spirale di lavori perduti, mancanza di denaro e di documenti, e scarse se non assenti possibilitą per il futuro. Ma Dolores ha sempre la sua dignitą e sogna la casa che si sta facendo costruire nel Salvador, sogna che un giorno lei e la sua famiglia torneranno lą, ricchi e pronti a ricominciare una nuova vita in un paese in cui non sono "invisibili".
An El Salvadoran immigrant who has lived in the US with her jobless husband and teenage son for a decade at least, chasing the American Dream of making enough money to have a good life. She spends her time as a maid to the wealthy clients on Manhattan 's Upper East Side , worked to the bone and with little to show for it. Her husband is out of work. Her teenage son is Americanized, though still undocumented, and disinterested in returning to "his" country, a land he's never known.The film traces Dolores' unfortunate circumstances as they spiral into a series of lost jobs, no money, no papers and slim to no future opportunities. But she still has her human dignity, and she dreams of the house she's having built in El Salvador , and how the family will return home one day, prosperous and ready to begin a new life in a country where they are no longer "invisible".